Nenagh College cordially invites you to our Open Night on Thursday, 16th November 2023 @ 7pm.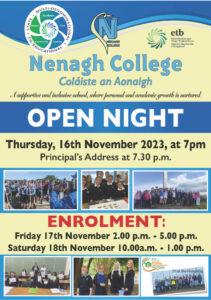 Contact Us
Questions? Feel free to contact us:
Email: adminnenaghcollege@tipperaryetb.ie
Phone: 06731525
Social Media: Find us on Facebook, Instagram, and X for event updates, photos, and more.
We look forward to welcoming you to our open night 2023!