Mentoring Programme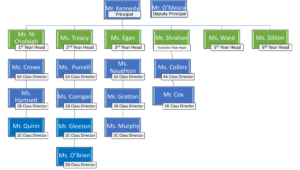 Career Guidance
Here in Nenagh Vocational School the Guidance Counsellor aims to facilitate all students' career needs and assure them of continuous support and counselling.
At Junior level the Guidance Counsellor is involved in the induction of new students into the school
developing student's personal and social skills
advising students of the implications of subject choice
At Senior level the Guidance Counsellor will:
provides advice on career choices and offers individual attention and assistance to students filling up CAO and UCAS forms.
circulates prospectuses and careers websites
accompanies senior students to career exhibitions and Open Days
informs students on career options such as Apprenticeships, Post Leaving Certificate courses, Fáilte Ireland, and Teagasc
assists students with CV preparation, interview techniques and job-hunting skills
The Guidance Counsellor is always available for counselling to students on a range of issues (personal, academic or social).
Big Brother/Big Sister Programme
Big Brother, Big Sister is a programme run in conjunction with Foróige where training is given to mentors (fifth and sixth year volunteers) and mentees (first years). The purpose of the programme is to form supportive friendships in the school environment. This helps to improve students' wellbeing, improve their social support and relationships with others.
In Nenagh College, the programme is facilitated by the, Guidance Counsellor, Ms. R. Maharaj and a number of the teaching staff who volunteer their time to organise and supervise different team-building events.
Feedback from students has been very positive. It has helped to alleviate some of the common fears that are associated with the transition from primary to secondary by allowing the incoming First Years to have a peer to talk to about their concerns (homework, location of rooms, different subjects and teachers etc). As a result, many deeper and lasting friendships have been formed. A greater sense of school and community spirit has evolved. Overall, it has been a worthwhile and very positive experience for student life in Nenagh College.