Friday 5th May was PLC Graduation Day at Nenagh College of Further Education. A total of 32 PLC Students graduated that day. Our guest speaker was James Clifford from TUS, a former Nenagh College and Nenagh College of Further Education graduate. James spoke about his journey in education and how PLC set him up perfectly for the challenges of college and where he is now on his educational journey to date.
Lucinda Dillon, PLC Co-ordinator, congratulated the Class of 2023 on their achievements. She also outlined the exciting new progression routes with TUS and Sunderland University.  All the work experience providers who continually take our students year after year, were also thanked. Without them we couldn't provide what we do in Nenagh College for our various programmes – TY, LCA, LCVP, and PLC.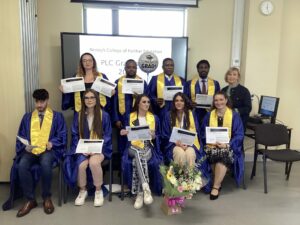 Applied Social Studies with Healthcare group with Teresa O'Gorman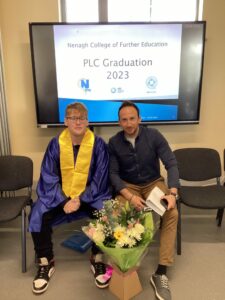 Sports, Recreation and Exercise Student of the Year – Michael O'Dwyer with Padraig Shrahan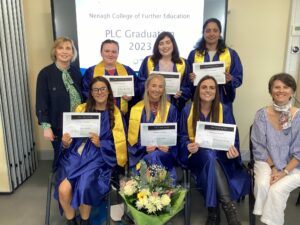 Early Learning and Care group with Teresa O'Gorman and Lucinda Dillon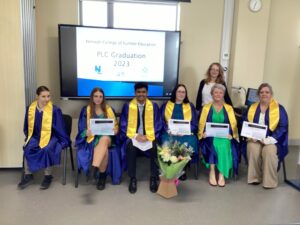 Business Administration group with Kate O'Brien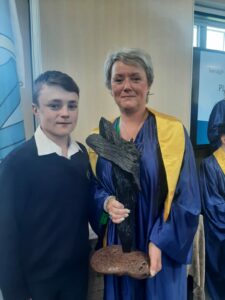 Caroline Walsh with her son Charlie after winning the Overall PLC Student of the Year Award.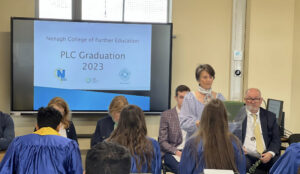 Lucinda Dillon PLC Co-ordinator congratulates the class of 2023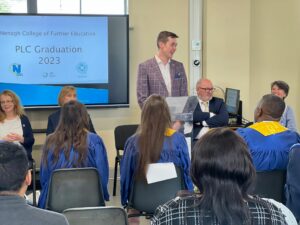 James Clifford, TUS